WELCOME TO STRONGWRITER!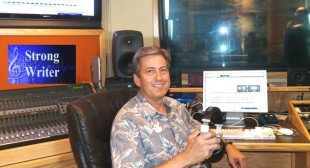 THANK YOU for visiting
StrongWriter.com!
This website is currently undergoing a relaunch with brand new things just for you. It is under construction until the Summer of 2012, but bookmark me now, because new content will be added in before the "grand opening."  If you haven't already, check out some of the interviews on YouTube.  Just Google or type in "ECLECTIC TV"
Please visit the sites ECLECTIC SONGWRITER and the blog ECLECTIC NOTES.
Also, I would welcome any comments on FACEBOOK.  (Like me!)  If you are a songwriter, I really would like your suggestions for your needs.  I will definitely work to help you out!  My goal is to inspire future songwriters to be better every day!  One verse at a time…
Thanks, and see you soon!
Dean
Managing Editor

The following two tabs change content below.
DEAN OLSON is a songwriter and executive producer of the weekly radio show "StrongWriter On the Radio." The popular program airs Fridays on Amazing Men Of Power and Music Day (AWOP / Raven International Network)
Latest posts by StrongWriterDean (see all)