StrongWriter On the Radio: (Episode 60) "Brian Hutson – Brian Celebrates a Blue Christmas"
Brian Celebrates a Blue Christmas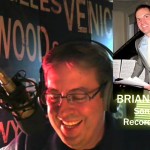 Featured Guest:   Brian Hutson
New York City's Brian Hutson is a classically-trained singer with a rich and powerful voice.  He splits his time as a 9-to-5 investment banker on Wall Street, and at night, he transforms into a smooth crooner. His broad range of vocal repertoires includes jazz, pop, easy listening, Broadway, opera, and classical music.
After graduation, Brian began working on Wall Street, balancing the demands of his job with time for his creative outlet – singing and songwriting.
While singing Michael Bublé's Everything at his office holiday party, Brian was discovered by AP Music Group President Joe Vulpis. Vulpis immediately took Brian into the studio and recorded their first two singles, "Let It Ride" and "She's My Woman." Released to radio in June 2015, "Let It Ride" has remained in the top 10 of the AC Top 200 chart for over 9 weeks. Both songs and his most recent single "Blue Christmas" are available worldwide for download.
Download Brian's new single "BLUE CHRISTMAS!"
Available on iTunes, Amazon Music, Google Play, and Spotify!

BRIAN HUTSON - Blue Christmas (Lyric Video)
Special thanks to Brian Hutson for the use of his images and music.
© 2015 Brian Hutson
The following two tabs change content below.
DEAN OLSON is a songwriter and executive producer of the weekly radio show "StrongWriter On the Radio." The popular program airs Fridays on Amazing Men Of Power and Music Day (AWOP / Raven International Network)
Latest posts by StrongWriterDean (see all)