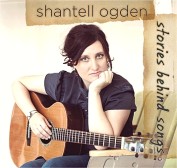 By Dean Olson
Even the most casual listener of country radio can instinctively pick up on the genuine heart and soul of the genre.  There's just something very romantic about a singer with an instrument pouring his or her life out in musical form.  Lyrics through music is a universal communication that connects with people on so many levels, and so much of country music is storytelling through this exceptional language.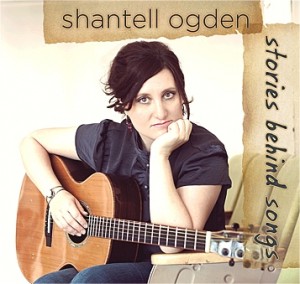 Stories Behind Songs, Shantell Ogden's follow-up to her 2008 debut album, Water Through Stone, is a beautiful example of a songwriter touching one's heart by sharing from her own.  But unlike her first offering, this new album leans toward a fresher, more acoustic ambience.  The listener will appreciate the warmer, more personal tone, almost inviting them to come by and sit a spell on the back porch swing, perhaps holding a cold mason jar of sweet tea.   What comes next is the feeling of just hanging out with Shantell and her good friends as they grab their instruments for some joyful pickin' and singin'.
If you haven't heard Shantell's singing style before, I can best describe her sweet, lilting vocals as comforting and charming.  She doesn't sound like anyone in particular, yet the character she embodies is everything that is good about country music.  On one hand, she exhibits a youthful sparkle of such contemporary artists as Jennette McCurdy, Carrie Underwood, or Miranda Lambert.  On the other hand, she delivers a performance of engaging and romantic delight that you could easily place on the shelf with the likes of LeAnn Rimes, Deanna Carter, Hillary Scott or Sara Evans.  The more you listen to her, though, the more she just sounds like Shantell.
The album, recorded and mixed by Dave Smith at Nashville Song Lab, renders a very pristine acoustic sound, and features some of the finest musicians playing today, including Smith who plays a well-blended lead guitar throughout the project.  Backing up Shantell and Dave are a winning quartet of session players that would make any songwriter proud.  Percussionist Dave Bobrow and fiddle virtuoso Tigar Bell (Merle Haggard, Ricky Van Shelton) are featured on the opening track, "'Til My John Wayne Comes Along," with dulcet vocal harmonies provided by the tune's co-writer, Donna DeSopo.  Piano player Montey Parkey (Alan Jackson, Darryl Worley) drops in on the very next track, "I Wasn't Done Loving You Yet," a moderately tempoed waltz co-written with legendary songsmith Thom Schuyler (S-K-O.)  Just the right blend of accompanying vocals is brilliantly presented by Marcum Stewart of the band Acklen Park ("Lost".)  If somehow the decision was up to me, this track would be chosen to be a single.  Showing up fashionably late to the party is Kevin Post (Blake Shelton, Terri Clark) who lays down a welcome dose of soothing pedal steel, prominently audible on two tracks including "Stay," an acoustic redux from Ogden's previous disc.
The most upbeat and playful track is "I Miss Dating That Truck," co-written by Scott Jarman and zestfully sprinkled with some of Dave Smith's banjo playing.  The remaining cuts on the album played on my heartstrings, but in a very good way.  For example, frequent collaborator Bill DiLuigi and Shantell came together and wrote a song called "What Matters the Most" about her beloved neighbor and friend Onetia Lovell.  The imagery of this elegant lady of eighty-something years moving out of her home to be near her daughter in a care facility drew me in.  By the time I heard the chorus, I felt a lump in my throat that resonated into my chest and touched my heart.  That's the kind of visceral connection I was mentioning earlier.
A similar effect came over me when I heard "Love Always Finds a Way."  This song was inspired by a story sent to Miss Ogden from Alpharetta, Georgia by Louis Sillay, about the first time he saw his bride of more than 65 years, Laura Lee.  Translating these true life tales and immortalizing them into song is what I believe is good and right with country music, and Shantell has that gift.
Stories Behind Songs is showcased as country album, but the acoustical coffee-house styling of her arrangements invites a wider appeal.  The song "That Girl," for instance, deserves to be noticed as a crossover single that can hold court with folk-rock chanteuses such as Juliana Hatfield, Suzanne Vega and Shawn Colvin.
It is my perspective that Shantell Ogden is living a performing songwriter's daydream.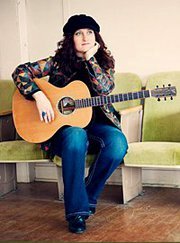 She has put in more than a decade's worth of writing, touring and recording songs.  And she hangs up her shingle in the mecca of the proverbial country artist – Nashville, Tennessee.  She has many fans and is adored in her artistic community, and one of her latest co-writing efforts found its place into the Music Row Top 100.  Given all her recent achievements, she seems to come off as the same girl who left the family dairy farm in rural Utah to head for even greener pastures (and fewer cows.)
To sum it up with my favorite food metaphor, I recommend you try today's special.  Shantell Ogden is serving up a warm piece of apple pie topped with some country spices and a secret ingredient thrown in to keep you coming back.  What might that ingredient be?  You'll have to taste it for yourself.
♪ ♫ ♩ ♬  ♪ ♫ ♩ ♬  ♪ ♫ ♩ ♬
Shantell's website has lots of cool information and free music if you get on her fan list.  For more information, please visit  www.shantellogden.com.